Here's some notes and ideas for Friday 27 March 2020 during these rapidly changing times. This is not financial advice nor is it making any specific recommendations. It is educational in nature only. Please speak to your financial advisor for specific advice.
THE US SHARE MARKET (Or, following what the big money is saying)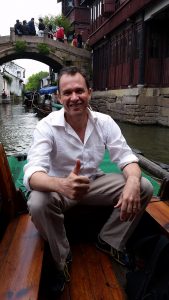 The US share market rallied up again last night some 5% presumably on the economic relief announcements. Its doesn't mean the bottom is in though!
At close this afternoon the Aussie market is down 5% – not looking so good, the market is dumping shares again before the weekend – 2 days is a long risky holding time these days.
We are in extraordinary times – never before even in the great depression of 1929 have we seen such wild, dramatic share price declines (and rises) in such a short amount of time.
This sudden and dramatic decline is so unusual that there is a good chance a recovery will be highly unusual too.
I think one thing we can reasonably expect (unfortunately) is terrible economic data going forward. The big question on the share market – is the worst already priced in?
Once the pandemic subsides, we should hopefully get some better perspective.
Some level headed points to keep in mind about these scary economic times…

The share market and a crisis gives us important clues about certain industries, sectors and businesses.
For instance, in blink of an eye we have seen entire industries completely ground to a halt and literally closed up eg travel, airlines, tourism, cafes, conferences and the list goes on.
Millions of people have had their lives changed overnight.
Millions of jobs have already been lost, with presumably many more job losses to come.
This has already started to produce some seriously scary headlines.
Whilst it may all be true, its best not to overreact as this starts rolling out.
I am hoping to some extent, the stock market has already discounted the tidal wave of poor economic data. (The stock market is generally thought of as a forward looking indicator because it represent what the big money wants to do).
Be aware that the doomsdayers will be particularly loud right now – because yes, on the surface they appear correct.
And of course every man and his dog wants to take a shot at the "FED" and the enormous 2 trillion debt and the enormous money printing etc etc etc.
Here's a thought you need to consider among all this doom talk:
What if what the Fed & Government bailout actually works? Even a bit?
It certainly has many times in the past.
And that is what the share market can tell us.
After the 2009 GFC the doomsdayers were saying that the economic bailouts, money printing and QE would literally doom us. The market (big real money) ignored them and went up instead. (and smart people made money). Mmm…
In 2010, 2011, 2012, 2013, 2014, 2015, 2016, 2017, 2018, 2019, 2020 the doomsdayers kept relentlessly saying that the economic bailouts, money printing and QE would literally doom us.
Again, the market (big real money) ignored them and went up year on year regardless – doubling, tripling and sometimes quadrupling. Mmm…
I point this out so that you hopefully keep a level head and don't overreact to those scary headlines.
Yes, there is going to be economic pain, but not all is lost.
Some are already saying the initial big forced selling is already over- I'm not so sure yet.
I think we are in a wait and see situation now.
Markets are trying to adjust to this pandemic situation. The economy itself has gone into an induced coma. The stock market has probably reacted more to our reaction to the virus than the virus itself.
Hopefully once everything has basically shut down though, the only way to go from there is up.
The economic stimulus packages being talked about can actually work – keep that in mind (no matter what the doomsdayers say)
And these particular stimulus packages are now BIG, VERY BIG and may just be enough to alleviate a lot of the stress and concerns about the credit markets falling apart.
As quickly as businesses were closed, they can open back up again. Humans, especially entrepreneurs will RUSH back to start making money again.
The infrastructure of the economy is still running. There is no way around job loss, but humans will carry on, and there will still be jobs around.
Not surprisingly online hiring is exploding – up 44% in the past week! (US figs).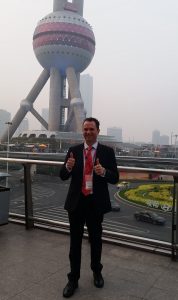 We Can Learn From China…
As I mentioned in a previous newsletter it can be useful to look at the Chinese experience for clues as to what may transpire from here as they are several months ahead of us. They are already returning to work and businesses are reopening rapidly.
Their traffic is already nearly back to previous 2019 levels so things are already getting busy again.
I like looking at the last 7 days traffic data for Shanghai (I've been there for business and the traffic congestion was amazing!)
You can see the traffic stats live for yourself here pulled from TomTom data:
https://www.tomtom.com/en_gb/traffic-index/shanghai-traffic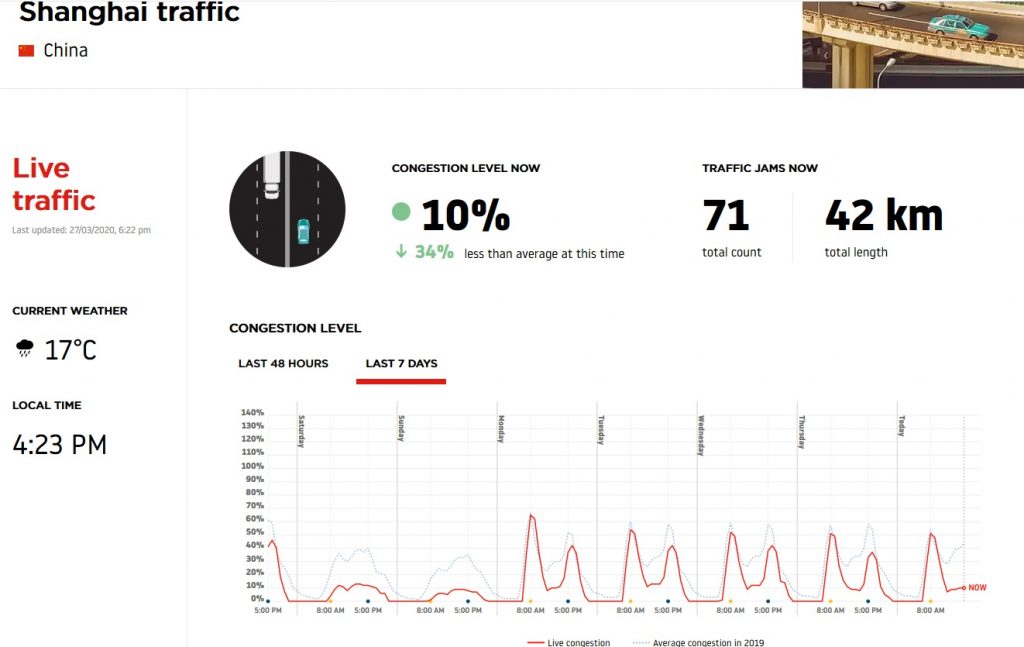 And as I mentioned in my recent newsletter HERE the Chinese sharemarket is not demonstrating the same extreme fear levels as the USA sharemarket and has not dropped nearly as far.
Obviously things can change rapidly, but its good to look for future potential positive role models.
OPPORTUNITIES FOR THOSE WHO ARE PREPARED…
Surviving businesses (and there is still heaps out there) will still want leads – they will desperate for them. = opportunity to those who are prepared.
Everyone is now online, searching, looking at lots of websites. Again = opportunity to those who are prepared.
Lots of businesses will realise they need to go online, quickly. Again = opportunity to those who are prepared.
Lots of good assets like good foundationally solid websites with good traffic that are good long term propositions will be sold off cheaply for instant cash. Again = opportunity to those who are prepared.
People have more time to look at emails at moment so its easier to get a message through to people (including business decision makers). Again = opportunity to those who are prepared.
Some people will buy into the scary headlines and the immediate scary/challenging situation and not think about the future, and… simply give up. = Less competition for lots of us in both offline and online businesses. Again = opportunity to those who are prepared.
In all recessions there are some businesses that are hardly affected and even thrive (eg here in Australia during the 2009 GFC recession Ramsay Healthcare and Sonic Healthcare were barely affected – their share price didn't drop and after the recession they boomed).  Again = opportunity to those who are prepared.
On that note, typically businesses and shares that hold it together well during a crises and/or recession are usually the ones that are the safest buys and most likely to boom (go up in value) once the recession is over. This is where I am focusing (eg certain IT tech stocks). Again = opportunity to those who are prepared.
Certain online markets and opportunities will thrive and boom. Again = opportunity to those who are prepared.
Remember that out of recessions great fortunes can be made!
Keep safe, healthy and positive,
Matt Raad
Thought For The Day
"In the US you had ten bad years in a row (during the Great Depression) and it still turned out to be a pretty good century,"
said Lloyd Blankfein, CEO of Goldman Sachs.