Some Good News To Ponder?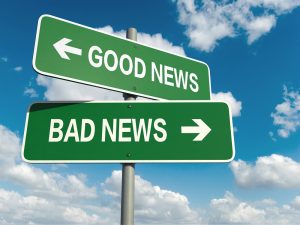 I am reading lots of conflicting viewpoints on what may or may not happen to the economy – everyone has an opinion but really no one knows.
Instead of looking at the overly negative I thought today it better to look at some good news which is certainly food for thought in these rapidly changing times…
The Economy May Just Be Deferred?
There are many economic experts (like Dr Oliver Chief Economist For AMP Capital) and economic writers both here and in the US saying that while things look grim in the short term, its worth considering that the economy could be viewed as being deferred –  Cruises not taken, restaurant meals not eaten, and vacations not taken are clearly gone for good.
However, a lot of discretionary purchases, such as for home, car, and computer purchases have simply been delayed until later. That's why there are forecasts out there for an exploding economy once we are through this. We just have to get through this to the other side.
There are some parts of the workforce who have adapted fine to working from home and business is still continuing. Plus the government bailouts mean people are at least being paid and still receiving paychecks.
And lets not forget there are still businesses doing well and thriving eg lots of internet or online businesses big and small.
Insider Buying Hits Third Highest in History? – Interesting!
The most since 1988 post the 1987 crash, both on an individual and dollar basis. More than 2,800 company directors have dived into the market in recent weeks. Could so many people be that wrong? Millennial buying is also soaring, largely left out of the bull market.
And This – ETFs (big index funds) Still Had Funds COME IN (not out) During March!
And that's despite the market carnage – for a month as bad as March you would expect to see tens of billions of dollars worth of outflows from exchange-traded funds, but in reality, U.S.-listed ETFs managed to eke out a net inflow of $176 million!
https://www.etf.com/sections/monthly-etf-flows/etf-monthly-fund-flows-march-2020
Is China Back In Business?
If this is true then this is really interesting: Even though most economies are about to enter the eye of the coronavirus induced storm, China "apparently" is already going again? Apparently its official manufacturing PMI for March just came in at 52 versus an expected 45 indicating a recovering economy!?!?
https://www.cnbc.com/2020/03/31/asia-markets-china-official-pmi-coronavirus-global-economy-in-focus.html
I'm not so sure on those stats but it is interesting to watch traffic reports on China and see that traffic is already back to last years levels during peak hour times – so people are at least going back to work:
https://www.tomtom.com/en_gb/traffic-index/shanghai-traffic
Some Useful Resources – Reading on the current economic situation:

Here is an interesting article on this topic written by Dr Shane Oliver, Head of Investment Strategy and Economics and Chief Economist for AMP Capital: https://www.ampcapital.com/au/en/insights-hub/articles/2020/march/is-coronavirus-driving-a-recession-depression-or-an-economic-hit
Interestingly Dr Oliver suggests there are big differences compared to the Great Depression and he says a long drawn out global downturn is not inevitable. Furthermore he says that growth could rebound quickly once the virus is under control.
You May Want to Check out https://www.firstlinks.com.au/ for a range of useful articles highly relevant to us Aussies – it's a good solid website with balanced views from some really well respected fund managers here in Australia.
I was particularly interested in Howard Marks views as he is one of the worlds largest investors in distressed securities:
https://www.firstlinks.com.au/howard-marks-latest-which-way-now
and you might like this article on the 4 stages of a bear market – it discusses where we may be right now in the current bear market:
https://www.firstlinks.com.au/four-stages-typical-bear-market
And some good news articles courtesy of ABC news:

At least our political parties have put aside their differences and are working together to help our country as much as possible. I know this news is a few days old but it is so good to read this – I am so grateful we have politicians in this country who's hearts are in the right place and are ALL looking for solutions – thank you:
https://www.abc.net.au/news/2020-03-24/coronavirus-billions-given-to-government-stimulus/
And finally, is there an end in sight to Coronavirus much quicker than expected?
Our health minister has apparently suggested the curve is flattening already!
https://www.abc.net.au/news/2020-03-31/coronavirus-flattening-the-curve-greg-hunt/12107404
Stay safe, healthy and positive
Kind regards,
Matt Raad
Thought For The Day
"Both abundance and lack exist simultaneously in our lives, as parallel realities. It is always our conscious choice which secret garden we will tend… when we choose to be grateful for the abundance that's present — love, health, family, friends, work, the joys of nature and personal pursuits that bring us pleasure — the wasteland of lack falls away and we experience heaven on Earth."
—Sarah Ban Breathnach