Imagine growing your online business from charging $2,000 per client to now charging $10,000+.
If you're looking for a way to create an online business you launch from home, then building websites for local businesses is a great model to follow. Thinking even bigger…what about if this was a way to replace (and even exceed) your full-time corporate income?
At our last Digital Investor Live Summit, we had the pleasure to speak with one of our successful graduates who now charge a minimum of $10,000 per website build. What's exciting is they were able to do this within 3 years from learning their new digital skills with us. Pete and Renee both quit their high-paying corporate jobs to build their online business from home.
I wanted to share Pete and Renee's story with you today to hopefully really inspire you that there are opportunities out there. It just takes the right level of digital skills and direction to make it happen.
Building an online business from home while looking after 3 small kids UNDER 5 🙂
Renee:             If you asked us three years ago if we are where we are today financially would have been possible, the answer would have been "No way." We just had our mind set on building websites for businesses and charging between $3,500 to $5000. We have three children under the age of 5 as well. So our journey started by both of us working from home. We quickly got an Au Pair to look after our children, so we could launch our business working from home.
Outsourcing to grow your online business much faster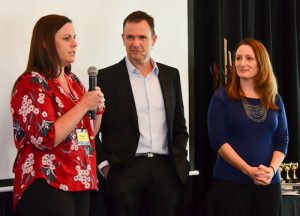 Renee:             As we've progressed over time, we wanted to grow our online business even more. We couldn't do that trying to do it all ourselves. And we weren't in a position to get a full-time employee. So, that's where we hired our first champion from the E-Business Institute community on a part-time basis. We hired them to assist us with the SEO side of our online business.
The SEO work helped with the regular income that was coming in on a consistent monthly basis. When working with website builds, it's all good to say that you're going to build four websites per month, but they do take longer depending on what's involved, and whether the client is supplying their own content etc. So at this point we're finding the cash flow is going up and down, but we love the recurring monthly nature of SEO related income.
Matt Raad:      And a this stage you were still learning and perfecting your Digital Skills with us.
Renee:             I'm still learning now – I'm always learning! So it was great to have a Champion graduate work with us that we knew were learning the same digital skills as what we're learning. So we continued to grow our online business, and then we got another Champion on board on a part-time basis.
Both of these Champion Graduates were looking to grow their own online businesses as well so through the EBusiness student community everyone was able to help each other.
The Business Grew So Much & So Quickly They Had To Relocate To A Local Office Space!
The digital agency just took off, and I hired a full-time Champion. So in between that, we had actually gone from the home office to a shared office space and then through to our own office within a short space of time as we kept out-growing our premises.
We quickly outgrew that trying to put three (sometimes four) people into one office. So now we've got our own office building which is about five minutes from our home in Burleigh Heads.
Matt:               Pretty impressive! It's nice business lifestyle working right near the beach and your own home. How far is your leading digital agency on the Gold Coast from the beach?
Renee:             We live close to the beach. Our office is literally a 5-minute drive away and then our kids' school is 5 minutes the next suburb over. It's all in a nice 5-minute triangle from each other.
Matt:               A bit better than flying all around Australia doing the corporate thing.
Operating an online business allows you amazing flexibility of time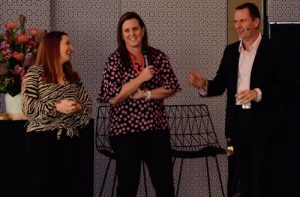 Renee:             Definitely. And this becomes one of the biggest factors that allows us to work different hours as well. If the kids have got something going on, then we can go do that. Even though we run a leading digital agency, we still have some flexibility of time.
It allows us to give our staff flexibility too. So, if they want to go and do something with their family or they need a doctor's appointment etc., it's still allowing them to be flexible as well.
Matt:               So, how many employees do you have now?
Renee:             I now have a team of eight.
Matt:               Wow! That this is amazing – and this is from a complete start-up. And are they all in-house in Burleigh.
Renee:             We don't have any offshore staff.
Matt:               So that's another strategy. At eBusiness Institute, we teach you to hire people offshore. But of course, you can hire people here in Australia just like Pete and Renee have.
Successfully scaling the business in under 3 years to now be able to charge $10,000 per client
So, you have eight full-time staff in an office in Burleigh Heads. What sort of website builds do you offer your clients? You were initially starting out small with charging $2-3k. What are your average website builds worth now?
Renee:             We typically charge a minimum of $6000 to $10,000.
Matt:               $6000 to $10,000 from here on the Gold Coast. If you're in Melbourne or Sydney (no pressure if you live there), I would suggest there's a lot more business to be had in Melbourne and Sydney than the Gold Coast. So, no excuses for anyone.
Try this Idea to Find New Clients for your Online Business Faster
Renee:             When running an online business, you need to proactively look out for opportunities. Pete does all of the sales side of our business, and I do all the implementation with my team.
So, we recently found a digital marketing company on the Gold Coast that went broke, and all the clients are now left without access to their websites. So Pete has just been ringing them. Nonstop.
Matt:               Yes, and he's projecting he's going to get around 30 jobs from this in the next 2 weeks?
Renee:             That's right. Just by offering to help clients get access back to their websites. Well, they're not going to get access to their website, but saving it in a way that it can actually be replicated.
Matt:               So that's big deal. Do the numbers – 30 new clients, with ongoing SEO. That pretty much sets your agency up for the next year, doesn't it?
Renee:             Yes!
Want to know how you can create an online business from home?
If you're looking for a way to start your own online business from home like Pete and Renee to help replace your full-time income, then check out our free digital marketing training course. This is where it all started for Pete and Renee and in the masterclass we cover a range of strategies designed to help high income earners replace their salaries by getting online and/or working from home.