One of our online money making strategies is to offer sponsored posts on our niche websites – we find it's a nice way to earn extra income off our sites. Basically you approach bigger companies in your specific niche and offer them paid guest posts where they pay you to post on your website.
Why Do Sponsored Posts Work So Well?
There are several key reasons or strategies behind this from the sponsored posters point of view:
They get to promote and spread their name/brand/idea out there on the internet and drive new traffic back to their own site
They get to post an article on a highly related and relevant website to their specific niche and in return get a highly valuable link back to them = GOLD in SEO terms (hint: big SEO companies do this all the time for SEO purposes)
The most obvious reason: they are basically posting an advertorial style article which helps them promote their products/services.
We have personally found over the years that this is a nice way to monetise specific niche websites or can be a useful way to earn some extra income off even quite small sites. It works in both big high traffic niches and very specific tight small niches especially when there are businesses with physical products or services they really want to promote.
When you think about it, it's the new digital media equivalent of the good old days of advertorials on TV except now we don't need to be a big media company, any of us can do it working from home in our pyjamas as long as we have a good site in a specific niche that they would want to advertise on.
The $190,000 blog article! What we can learn…
I recently found a fantastic example of this – how does $190,000 for one guest post article sound? Before I start I want to give the very clear disclaimer I am not giving financial advice or recommendations of any kind of the article or topic I am about to reference – I am providing it as an educational example of making money online from your websites.
I have a personal interest in commodities especially if they are related to tech like Lithium – it powers the batteries that we use in everything these days. In researching this I came across the following article:
https://oilprice.com/Energy/Energy-General/Tech-Breakthrough-Could-Transform-The-Electric-Car-Market.html
(not an affiliate link)
Scroll right to the bottom of the article and if you are interested in making money online I think you will find it a fascinating read like I did. Here's the important bit: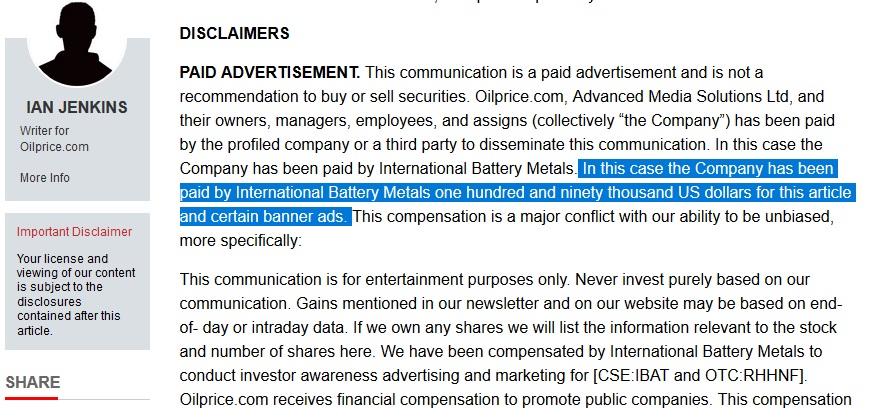 I have bolded the fun bit : In this case the Company has been paid by International Battery Metals one hundred and ninety thousand US dollars for this article and certain banner ads!
…But Wait Theres More…
Monetising A Big Website
If you want to dig a bit deeper and learn more about how to monetise a big site make sure you check out their advertising rates and stats:
https://oilprice.com/advertising
(not an affiliate link)
Here you will discover some impressive stats, for example (see my comments in brackets):
Over 1.8million unique visitors per month (awesome)
Over 120,000 newsletter subscriptions (so they make money off their newsletters)
Target audience from large multinationals, fund managers, politicians?, investors and high net worth individuals (nice target audience to have!)
They sell premium advertising space on the site (exactly the same as we teach with adsense placements)
They offer corporate intelligence on their niche (another nice service to offer)
They even offer Web Design Services! (I found this one very interesting – take note, it's a great strategy and one we teach all the time now)
I really like finding these live examples – I find it quite exciting that a brand new mining/commodities company can now launch and promote themselves with an online strategy just like we do in our (much) smaller online niches – and that it's a viable way of getting the publicity they need and potentially reach individual investors directly.
Welcome to the new digital age where once you know what you are doing  you can promote and launch absolutely anything from products and services through to ideas  – and even mining companies!
My advice for anyone wanting to get into this kind of market or starting out: learn how to build a website! Yep, its that simple to get started in this amazing online world.